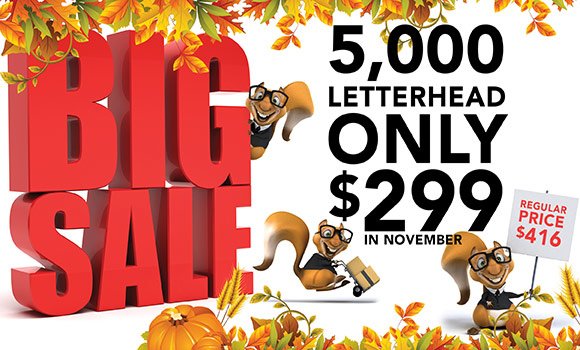 View Details & Order Online >>
We're feeling a little squirrely this month, so we thought we'd offer something different: 5,000 sheets of Corporate Letterhead for only $299. That's a savings of $117! Are we nuts?

After Business Cards, Letterhead is one of the most important pieces of your business' printed collateral. Letterhead says a lot about your brand and what kind of business you are. Do you want to project an image of creativity or dependability? Is your company flexible or conservative? Young or established? Along with other branding, your Letterhead plays an important part in conveying this message. Using well-designed, quality Letterhead also adds to the legitimacy of your business. Email is fine for some types of communication with established contacts, but important letters deserve a better presentation. Use a knockout Letterhead and let your prospects know you're not a fly-by-night operation.