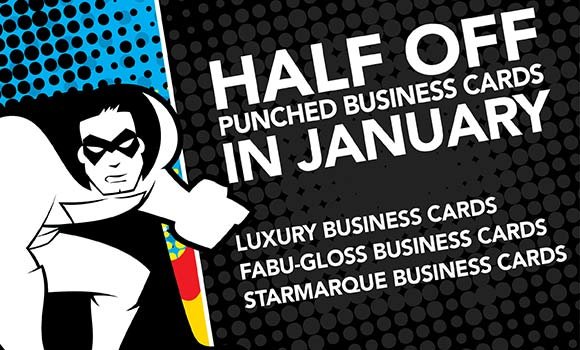 View Details & Order Online >>
When last we left our fearless Providers of Print, they were wowing the masses with ultra-thick, high-quality business cards in a variety of stunning finishes.
The heroes at printing.com remain vigilant in their quest to rid the world of painfully plain print collateral. But what could they have in their arsenal to stop the scourge of boring Business Cards from casting its shadow over our fair city?
Never fear, Punched Business Cards are here!
They're the same Business Cards you've trusted for years, but with a choice of round corner shapes, including 3.5" x 2" with either a .25" or a .125" corner radius, and a distinctive 3.5" x 1.5" size with a .125" corner radius.
We're offering Punched Business Cards in Fabu-Gloss, Luxury and StarMarque finishes at half off in January. Together, we can save the world from corporate blandness, but you must act fast! Contact me or order Punched Business Cards online today.